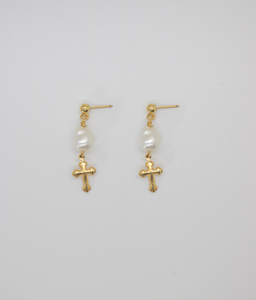 With ease and elegance, these classic pearl drop earrings complete any look. 

About: 
14k Gold-Filled 
H: Approximately 55mm *height may slightly vary due to these being hand wired
Ball Stud Size: 4mm 
Nickel Free
Baroque freshwater pearl ~ 9-10mm
Please note: these pearls are authentic freshwater pearls - no two will look alike. We will pick pearls that complement each other. 
What is gold-filled?
Not to be confused with gold-plated as gold-filled contains 100x more gold than gold-plated. The thick outer layer of gold makes it highly durable and safe for people with allergies or sensitive skin. Gold-filled pieces will not turn your skin green and with proper wear and care, gold-filled pieces can last just as long as solid gold pieces.
Shipping:
Because the majority of our products are handcrafted, please allow up to a week for your items to ship.